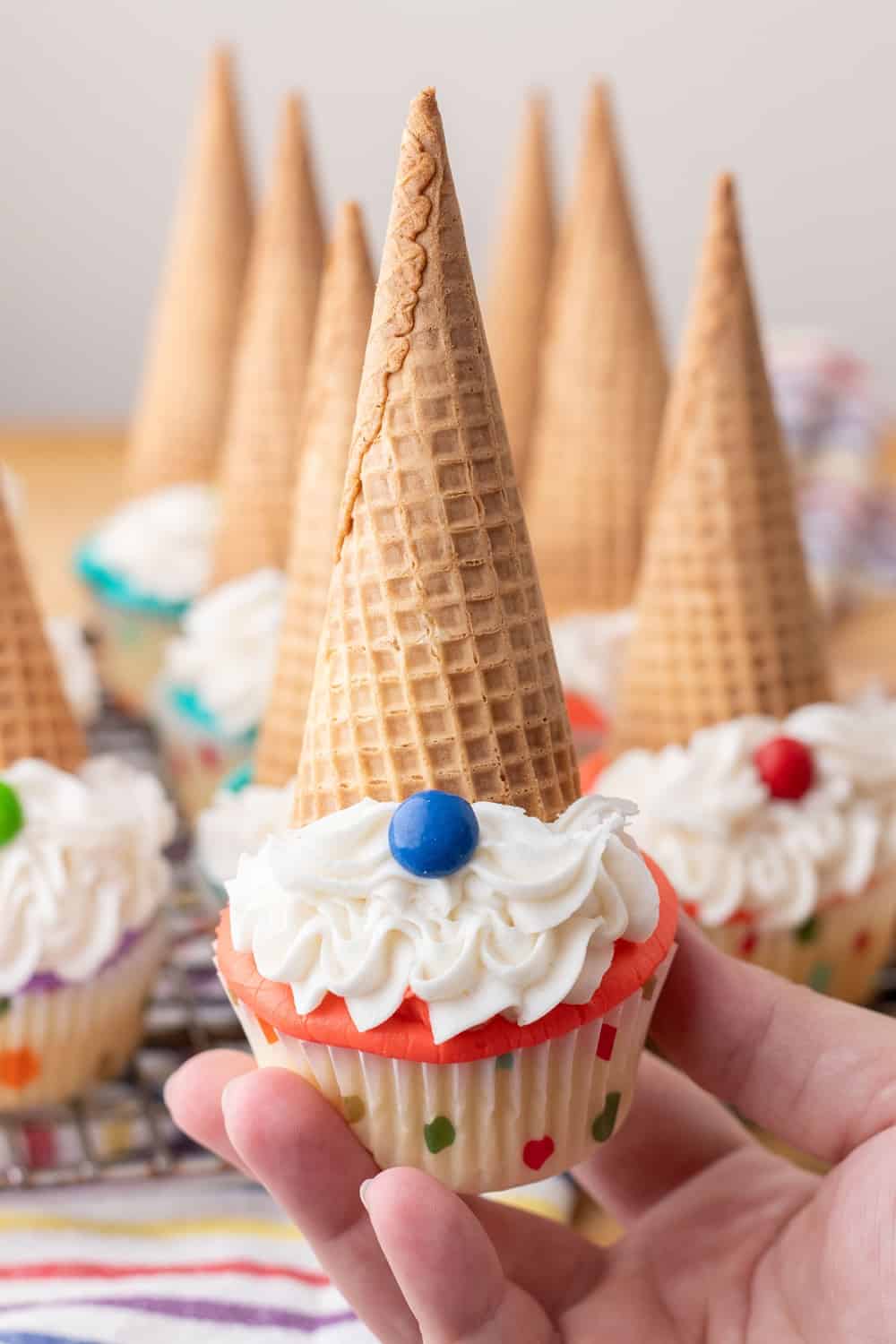 By using this site, you agree to our Terms of Use. This post may contain affiliate links. Read our disclosure policy.
Follow us on Instagram for more fun food ideas for kids!
Whip up magical gnome cupcakes in minutes using ready-made ingredients and simple toppings. A delightful and dessert perfect for any whimsical event!
Gnomes are trending and show no signs of going away. It's no wonder, who can resist a gnome's adorable woodland cheer? Here's a whimsical and super easy way to make them come to live in sweet form: introducing Gnome cupcakes! These magical treats are not only delightful to look at, but are a blast for kids to make too! The best part? They're a cinch to make especially if you opt for ready-made cupcakes or a simple cake mix. They will look great at any gnome, woodland party or even served up as a holiday treat!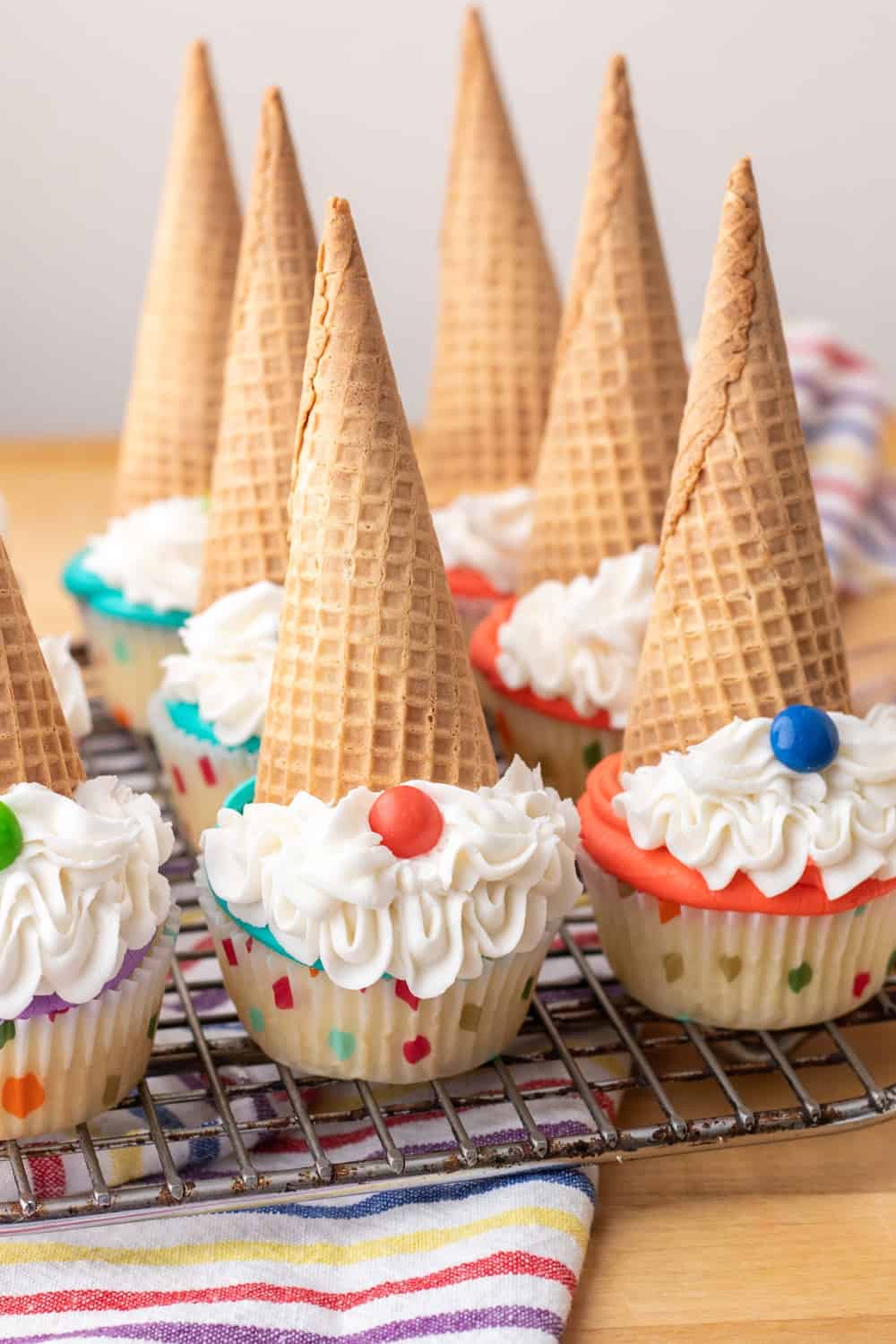 How to Make Gnome Cupcakes
All you'll need are cupcakes, ice cream cones frosting, a star piping tip and decorative candies to make these easy gnome cupcakes. Simply frost your cupcakes (the more decorative the frosting the cuter!). Add a cone on top and then pipe a white beard with your star tip. Decorate by adding a colored candy for the gnome's nose and you're done!
Gnome Cupcakes Ingredients:
– Ready-made cupcakes or your favorite cake mix (baked into cupcakes)
– Colored frosting
– Sugar Ice cream cones
– White frosting in a piping bag, fitted with a star tip
– Colorful round candies (like Skittles or M&M's) for the gnome nose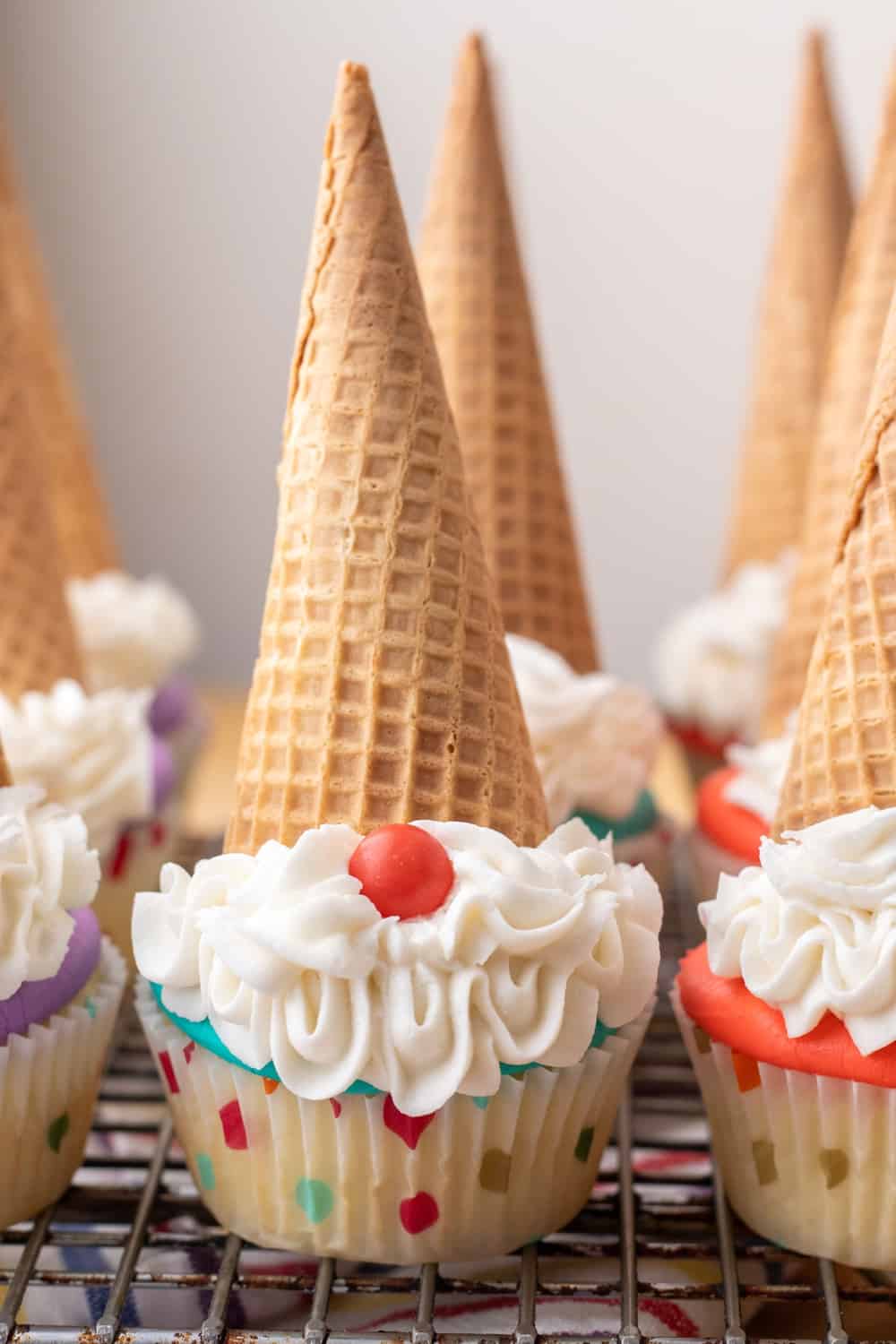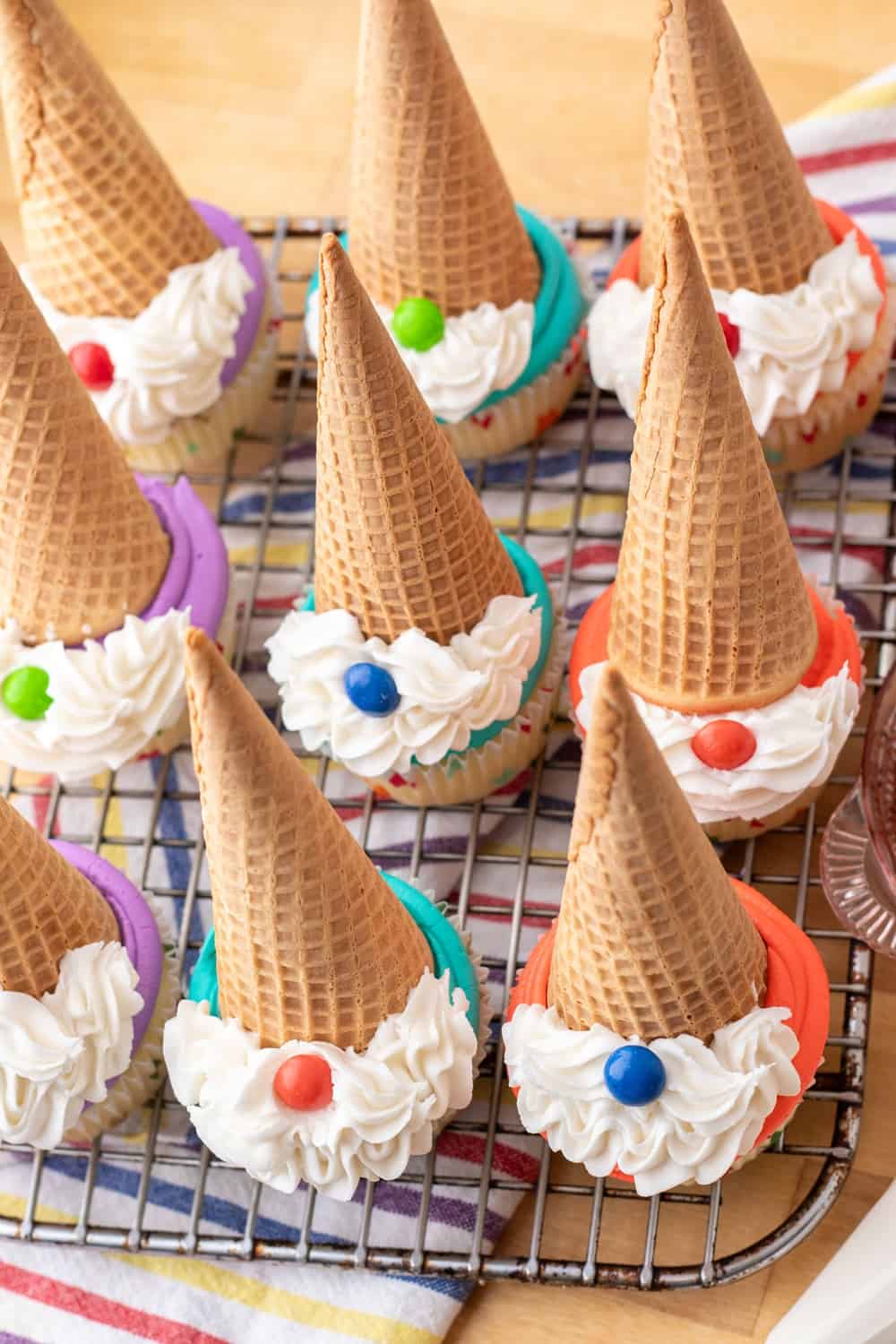 Instructions:
Prepare the Cupcakes:

If you're using a cake mix, prepare the cupcakes according to the package instructions. Allow them to cool completely before decorating.
If you're using ready-made cupcakes, make sure they are unfrosted, as we'll be adding our own gnome magic!

Color the Frosting:

If you need to color your frosting, separate it into bowls and add your chosen food colors. Mix well until you achieve the desired shade. I recommend gel food coloring to create bright colors without diluting the frosting.

Construct the Gnome Hat:

Generously frost the top of each cupcake with your colored frosting.
Place an ice cream cone upside down on top, gently pressing it down so it adheres to the frosting. This forms the gnome's iconic pointy hat.

Add the Beard:

Using the white frosting in a piping bag with a star tip, pipe from left to right and add more texture and fluff by going again one more time with a bit less frosting the second time around. The trick is to press, then pull away quickly to create little peaks, giving the beard a textured look.

Gnome Nose:

Place a colorful candy in the center of the beard to create a cute gnome nose. Enjoy your magical gnome treats!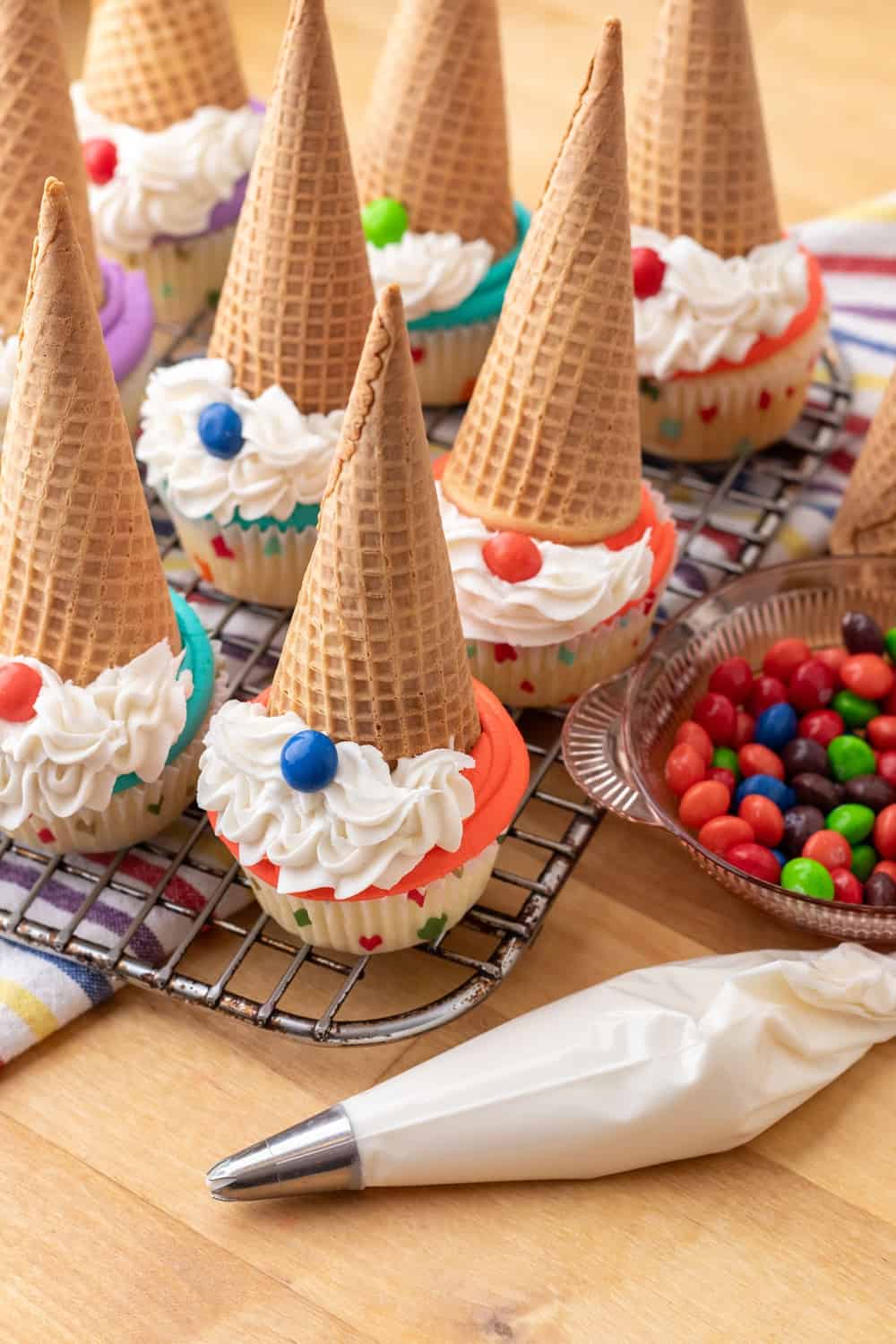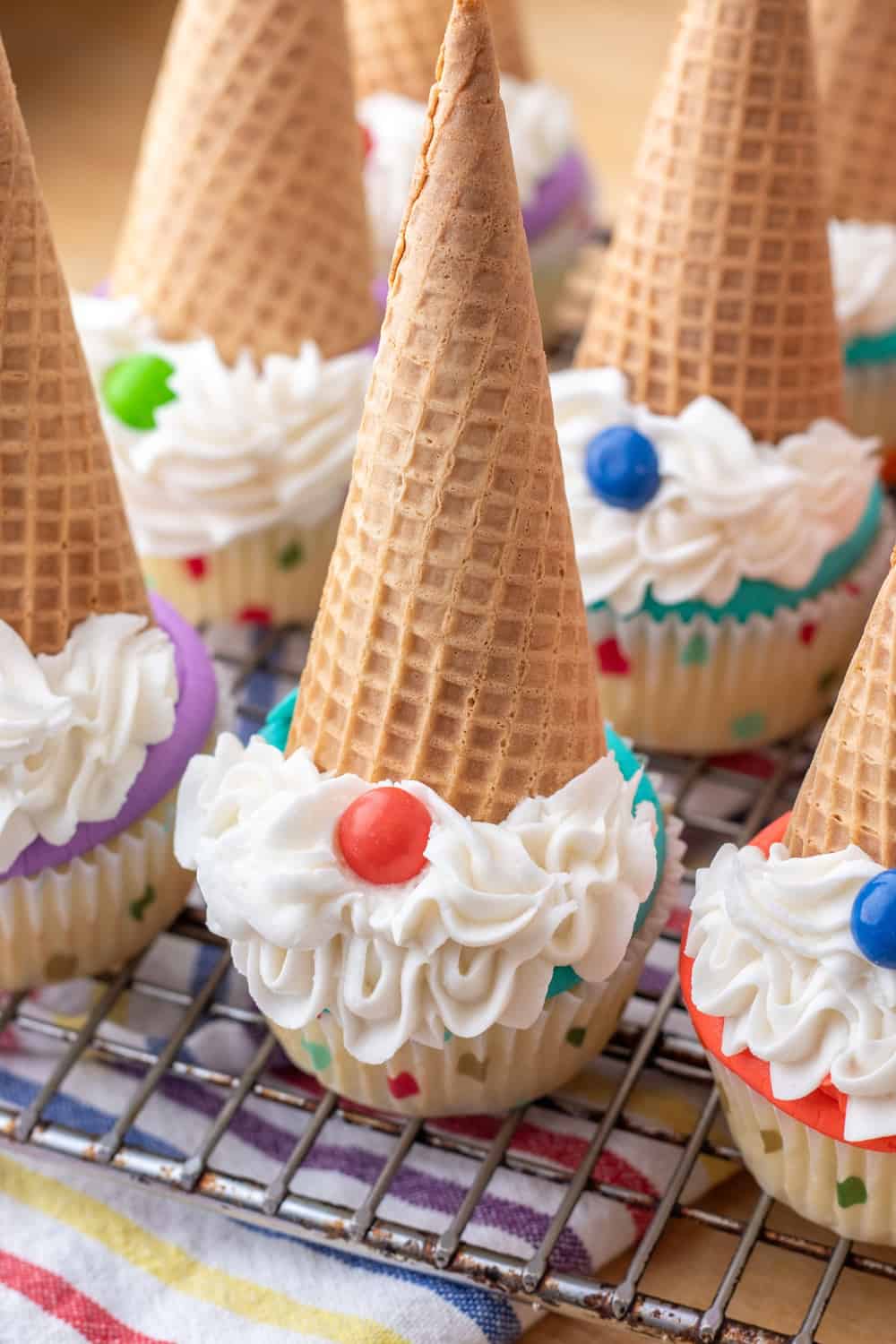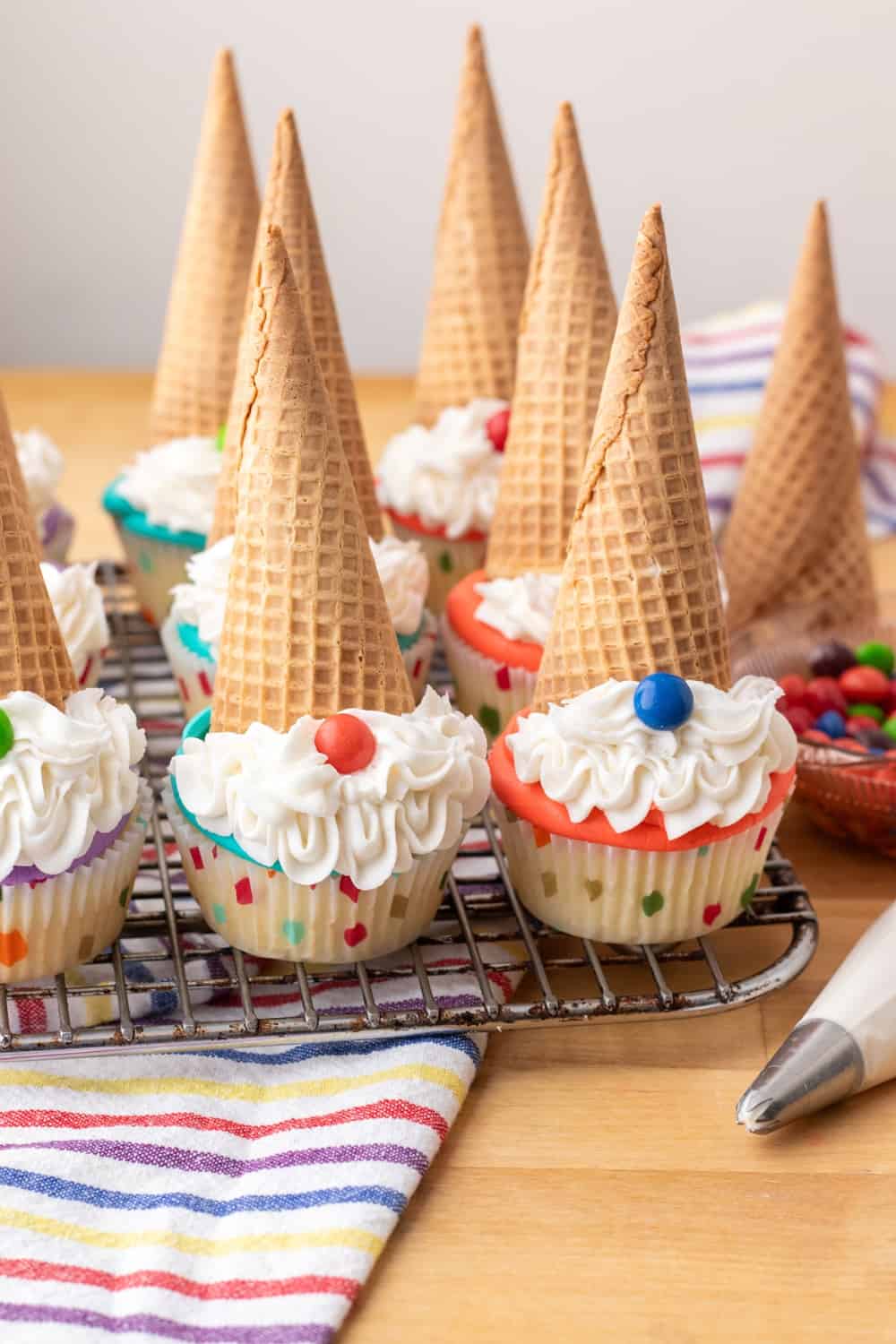 Final Thoughts
Gnome cupcakes are a magical treat for the young and young at heart! Kids and adults will delight in their nostalgic flair and they are sure to be a hit at any woodland, gnome or holiday-themed party!