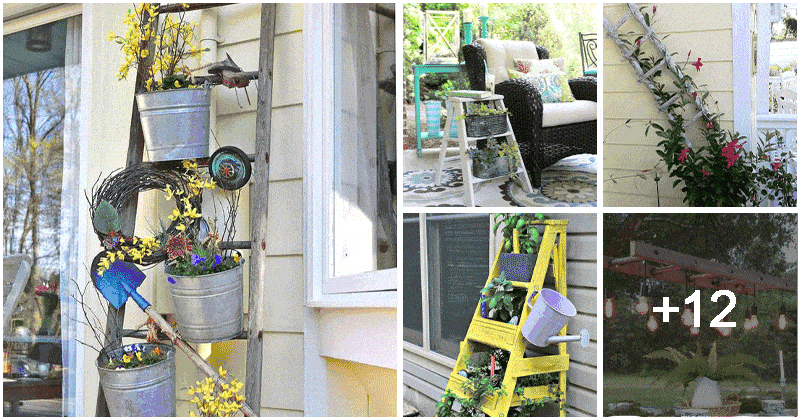 Easy DIY Garden Projects Made Out Of Old Ladders
Do you know that that old ladder laying in your garage can be of great use? You think that it is useless once broken, especially if the steps or rungs were missing, but you don't have to throw it out. Come with us as we take you through Easy DIY Garden Projects Made Out Of Old Ladders that you should try. From outdoor side tables and chandeliers to porch decor and even an arbor, there are so many ways to repurpose wooden ladders into great decor.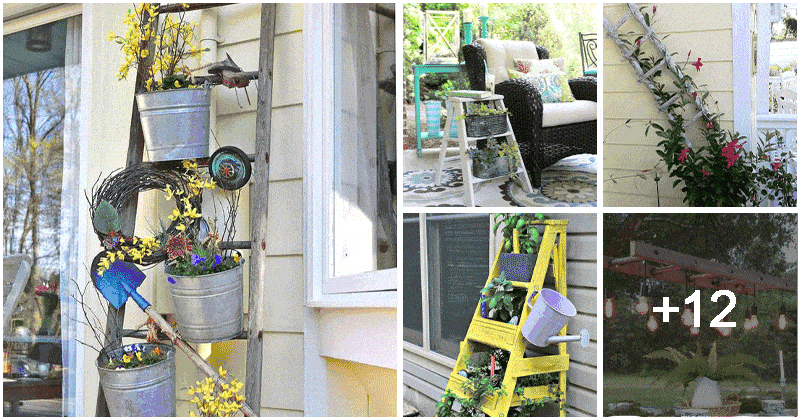 If you really love the rustic look, you're going to adore these wooden ladders. All of them are really easy and give you something that you need whether it's an organization, décor, or just extra storage space. These ladder ideas also will surely add excitement to any space in your garden. For example, using ladder planters as a smart tool, you will not only have your small green garden under your own way but also save you a lot of space. And lots of different great ideas, they are ready to be tried by yourself!
#1 Ladder Trellis
Source: Gator Girl

#2 Ladder Side Table Planter
Source: Refreshrestyle
#3 Outdoor Antique Farmhouse Ladder Chandelier
Source: Idlights
#4 Herb Garden Ladder Planter
Source: Instructables
#5 Vintage Ladder Decor Idea With Yellow Flowers
Source: Lorabloomquist
#6 Adding Ladders to the Flower Garden
Source: Organizedclutter
#7 Ladder Fence
Source: D M

#8 Vintage Ladder To Awesome Arbor
Source: Pinterest
#9 Ladder Flower Garden
Source: Becky Reiser

#10 Ladder Garden Gate
Source: Hometalk
#11 DIY Vertical Garden
Source: Digginginthegarden
#12 Raised Garden Bed
Source: Stonewondesigns
#13 Creative Watering Can Garden Art Idea With Old Ladder
Source: Empressofdirt
#14 Ladder Plant Stand
Source: Bowerpowerblog
#15 Ladder Garden Sign
Source: Organizedclutter
#16 Simple Garden Decorating Idea
Source: Pinterest
#17 Ladder Tomato Cage
Source: Davesgarden