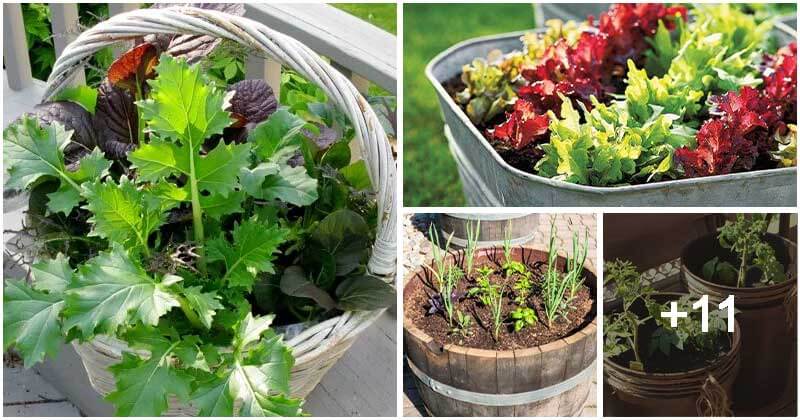 DIY Vegetable Container Garden Ideas
Growing vegetables in containers are the perfect solution when you don't have the area to dig or you don't want to be hurt your back for digging soil and pulling weeds. If you're thinking of starting a container garden and growing them in it, today's post is for you, here is the list of 15 DIY Vegetable Container Garden Ideas that you can make the most of items around the home.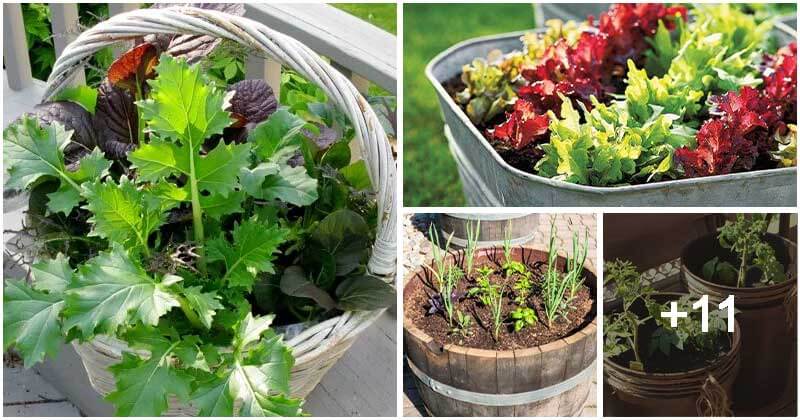 There are a lot of old house items that you will put in the trash! Don't waste it! You are stopping at the right place to get great ways for reusing them. A wide range of non-used items such as old barrels, kitchen colander, grocery bags, laundry day, and more, all of them can be easily turned into beautiful and useful vegetable container gardens with your creativity and handful. So simple to give them a second life, let's paint them with bright colors to renew them, and then you can grow any vegetables that you love.
#1 DIY Wine Barrel Herb Garden
Source: Iamcountryside
#2 Plant Green Vegetable In Baskets
Source: Thespruce
#3 Kitchen Colander Vegetable Container Garden
Source: Edenmakersblog
#4 Galvanized Raised Vegetable Container Garden
Source: Bhg
#5 Laundry Day Vegetable Container Garden
Source: Hgvt
#6 Wagon Vegetable Container Garden
Source: Bhg
#7 Straw Vegetable Container Garden
Source: News.yahoo
#8 DIY Concrete Vegetable Container Garden
Source: Southernliving
#9 Grocery Bag Vegetable Container Garden
Source: Thethriftycouple
#10 Vegetable Bath
Source: Flickr
#11 DIY 5 Gallon Bucket Patio Container Tomato Planter
Source: Chelsa Jones
#12 Fabric Vegetable Container Garden
Source: Satupuutarhassa
#13 Wooden Box Vegetable Container Garden
Source: Fourgenerationsoneroof
#14 Teacup Garden
Source: Womansday
#15 Cinder Block Vegetable Container Garden
Source: Alexandracooks