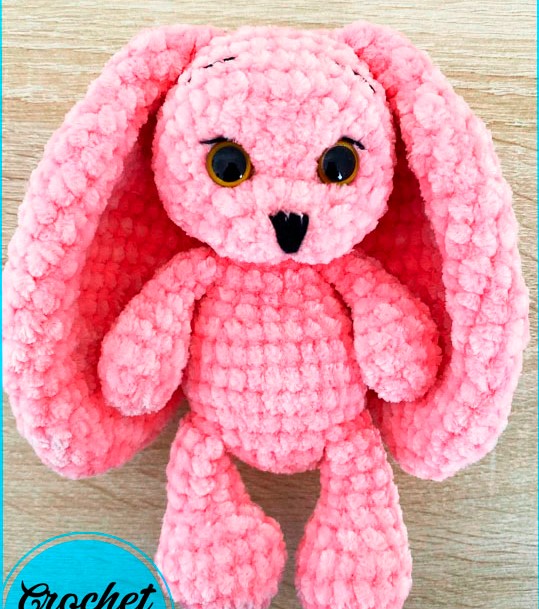 It's lovely pink bunny amigurumi crochet pattern. Lets knit with love!
The size of the toy is 18 cm.
Designer: @amical_toys
Materials:
Yarn Himalaya velvet (pink color); iris yarn (black)
Hook 3mm. 12mm eyes on a secure mount.
Scissors, white thread, needle,
marker.
Filler (holofiber)
Abbreviations
AR – Amigurumi Magic ring
MR – Amigurumi Magic ring
App – application
ll – lift loop
sc : Single Crochet
inc : Increase
dec : Decrease
tr : Triple Crochet/ Treble Crochet
st: Stitch
dc : Double Crochet
hdc: Half Double Crochet
sl-st : Slip Stitch
ch : Chain
..in : make increase into same stitch as many as the number which is given in front of "inc" abbreviation (exp; 3inc, 4inc..).
FLO : Crochet into front loops only
BLO : Crochet into back loops only
BL : Bobble Stitch – do 5dc all in the same stitch and then yarn over and pull through all the loops on your hook (the original loop + 1 loop for each partially completed dc).
Arms:
1р. 6 sc in MR
2р. 6 inc (12)
3-4р. 12 sc
5р. 6 dec
6-9р. 6 sc+slst.
Cut off the thread. Fill only the lower part with holofiber.
Legs:
1р. 6 sc in MR
2р. 6inc (12)
3р. 1sc – inc (18)
4-5р.18sc
6р. 3sc – 6dec – 3sc (12)
7р. 3sc- 3dec-3sc (9)
8-10р. 9sc
11р. 7sc-dec -slst.
Cut off the thread. We fill with holofiber.
Body:
1р. 6 sc in MR
2р. 6inc (12)
3р. 1sc – inc (18)
4р. 2sc – inc (24)
We knit the legs:
5р. 3sc -(legs 4sc)-5sc -(legs 4sc)-8sc (24)
6р. 3sc – inc (32)
7-9р. 32sc
10р. 3sc – dec (24)
11р. 2sc – dec (18)
12р.18sc
We knit the hands:
13р. 2sc-(hand 3sc) -5sc-(hand 3sc)-5sc
15р. 1sc-dec (12)
We leave a long thread for sewing on the head, fill it with holofiber.
Head:
1р. 4ch
2р. Starting from the second loop: 2sc-2inc-2sc-1inc (10)
3р. inc-3sc–2inc-3sc-inc (14)
4р.1sc-4inc (hdc) -9sc
5р. 1sc-8inc (hdc)-9sc
6р.1sc-(1hdc-1inc(hdc)*5times)-9sc Insert eyes between 5р. and 6р. (at a distance of 4hdc )
7-11р. 33sc
12р. 3sc-dec * 6times-3sc (27)
13р. 2sc – dec *6times – 3sc (21)
12р. 1sc-dec (14)
15р. 7dec
Fill the head with holofiber, pull off the hole.
Ears:
1р. 8hdc
2р. 8inc (hdc) (16)
3р. 1hdc-inc(hdc)
4-5р. 24 hdc
6р. 2hdc -inc (hdc) (32)
7-13р. 32hdc
14р. 2hdc-dec(hdc) (24)
15р. 1hdc-dec(hdc) (16)
16-17р. 16hdc
18р. 8dec(hdc)
Knit together 4sc
We leave the thread for sewing.
Tail:
1р. 6sc in MR
2р. 6inc (12)
3р. 12 sc
Fill with holofiber and sew on.